Personal Development Products For Young Men
There are an increasing amount of personal development products available as demand and the industry expand. These have the ability to take your development to the next level.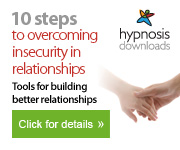 This is an excellent program for those who need more assistance when it comes to overcoming insecurity, but either cannot or do not want to see a professional.
The negative thought patterns run so deep that the mere theoretical understanding that you can control your own thoughts is not enough.
This is a guided hypnosis program which will ensure you overcome self sabotaging thought processes.
It does this by taking you into a deep relaxed state where your subsconscious mind is then impressed upon with a positive and trustworthy perspective. If you perform the hypnosis sessions regularly your subconscious will slowly come around to this new positive perspective and your life will reorient around it.
Read my full "10 Steps To Overcome Insecurity In Relationships" Review.
Go straight to the "10 Steps To Overcome Insecurity In Relationships" website.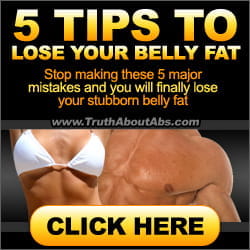 If you want a six pack for vanity then you probably will never achieve it. The hard work and sacrifice required will put you off after a while and you will give up.
However if you want to have a lifestyle where you only eat Paleo because it makes you feel great and you smash workouts because you love it then in time you will achieve a six pack. The six pack should never be the driving force. It is merely a side effect of disciplined eating and a love of shifting heavy objects.
The "Truth About Six Pack Abs" cannot do the work for you. And reading it won't guarantee any results if you don't take action. But if you are prepared to live a six pack lifestyle and make the changes necessary then this book will give you everything you need to know.
It covers what to eat, what workouts to do and how to develop the right mindset. Attitude and mindset drive the actions that you do. Mike Geary understands that and he ensures that you have the right understanding of the "why" as well as the "how."
Read my full "Truth About Six Pack Abs" Review.
Go straight to the "Truth About Six Pack Abs" website.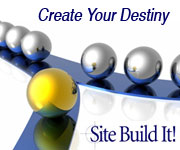 Site Build It is a package that helps newcomers build an effective online business that generates income. It does not merely help you get something up online; it is a thorough business building education. They provide all the tools and technical elements that you require including domain name registration, hosting and a keyword brainstorming tool. This service is for people who do not necessarily have the technical skills to build a website and puts online success within the reach of anybody.
Read my full Site Build It Review.
Go straight to the Site Build It website.
"Double Your Dating" is unique because the author understands that modern men struggle because society emasculates them. Women want real men. We switch off our masculine instincts and shoot ourselves in the foot by trying to be sensitive.
Then we wonder why we fail with women and think that there is something wrong with us. Returning to our natural masculinity and understanding that women want men who are men gives you a fantastic platform.
This book gets you inside a woman's psyche and into your own thought patterns. You will change the way you think about women and dating and that will drastically change your results.
Read my full "Double Your Dating" Review.
Go straight to the "Double Your Dating" website.
Share:
My Manning Up Email Series
My free email series with unique information that teaches you to man up.